There are very few people left in town who can say they were a part of Whistler from the beginning. Fewer still who can claim to have had a hand in the Village design. Only one who did that and was instrumental in bringing about Whistler's most recent crown jewel, the Audain Art Museum.
Jim Moodie is that one. And right beside him, all the way, has been Doria.
Jim's aunt bought shares in Garibaldi Lift Company when it was trying to raise money to build Whistler Mountain. Shareholders received season passes as part of their package. She didn't ski. Jim did. So when Whistler opened for skiing, he was there — 221cm Head Standards, Alpine Joe stretch pants, white turtleneck and, naturally, leather wine skin.
Doria wasn't far behind. While they knew each other in high school in Vancouver, nothing sparked until they began night skiing together on Grouse in the late 60s. Both headed to UBC, Jim studying Planning and Fine Arts, Doria, French and Political Science. Once they realized they'd each found the right partner, their long journey began.
Building Whistler Village
Whistler was the constant in that journey, first as a preferred ski destination. But in the early 70s, Jim joined Doug Sutcliffe and Neil Griggs and in 1977, their planning consulting business was tapped to prepare a development plan for Whistler's town centre… on a dump site. While the final design was a stew of ideas from many sources — including Eldon Beck and Al Raine — Jim, Doug and Neil's early work foreshadowed much of what became Whistler Village.
Part of the design involved evicting the nascent resort's established squatters. As Jim recalls, "Negotiations resulted in them moving and the buildings being used as training for the volunteer fire department." Among those evicted were Andy Munster and future mayor Nancy Wilhelm-Morden.
Spending a lot of time in Whistler, the three planners purchased an old ski patrol cabin in White Gold, alternating weekends skiing with their growing families. And Whistler Village, despite receiverships, bankruptcies, takeovers by the Village Land Company and Province, got built.
After Doug Sutcliff's untimely death in 1982 and with a growing family, Doria and Jim bought out their partners interest in the White Gold cabin. Deciding it needed a rebuild, in 1990 they hired one of Whistler's best builders. Sharing a beer with him one sunny afternoon, after having demolished 95% of their cabin, he said to Jim, "You knew me in the early days of the Village development… you burned my house down." It was Andy Munster, who proceeded to build a beautiful home on the old cabin's site despite Jim's immediate concerns.
Splitting their time between Vancouver and Whistler, Doria and Jim found time to raise a family and in 1985, Doria returned to university for a teaching certificate and spent the next 18 years teaching French Immersion at Trafalgar School. She'd honed her French living in France in the late 60s, a skill that landed her a job as an interpreter for ABC Sports during the 1968 Winter Olympics in Grenoble. The Olympic experience convinced her to head to Madrid to improve her Spanish and reprise her job at the Summer Olympics in Mexico City that fall.
It was the Olympics that put Jim back to work in Whistler as well. When Vancouver and Whistler were awarded the 2010 Games in 2003, the RMOW convinced the Vancouver Organizing Committee to let the town put the money allocated for temporary athletes' housing toward building permanent accommodation that would be repurposed post-Olympics for employee housing.
Council of the day created the Whistler Development Corporation (WDC) and charged it with getting it built. Eric Martin was appointed Chair of WDC and Jim Vice Chair; Jim Godfrey, Steve Bayly and Melissa McKay completed the board whose compensation was one dollar a year. After all, the Olympics would be over in 2010.
One of WDC's founding principles was ensuring the development would not create a financial burden for local taxpayers. It would be the second time Jim worked to turn a dump into a village, this time only evicting bears, not squatters. The resulting Cheakamus Crossing neighbourhood is a vibrant home to hundreds of Whistler's workforce. The original WDC Board resigned in 2018 on a matter of principle.
While Jim was busy building Cheakamus, Doria was establishing a solid reputation as an artist, a passion she'd had even before Jim. Encouraged by local artists and, eventually, Gordon Smith, she began painting in earnest after retiring in 2006. "Forcing" herself to approach the owner of Mountain Galleries, she was both excited and daunted when her pitch was accepted. Sales followed, interest grew, clients began seeking out her works and these days she's getting used to introducing herself as an artist.
Through a relationship Jim and Doria had with Michael Audain and his wife, Yoshi Karasawa, Jim convinced Michael Whistler would be the perfect home for him to build the museum he wanted to put his collection of art on permanent, public display.
In the late 70s, when he was evicting squatters, Jim never imagined one of them would be the mayor he'd approach in 2012 with the proposal for Michael's museum. But Nancy Wilhelm-Morden loved the proposal and the 56,000 square foot, Patkua-designed building opened in March 2016, forever establishing Whistler as a player in art & culture.
Jim and Doria are active museum supporters, Jim serving on the Board of Trustees and Foundation. Doria is a Board member of Michael's Grizzly Bear Foundation and her well-known grizzly bear portraits grace walls around the world. In 2015, Jim was awarded the Freedom of the Municipality, the town's highest honour, for his work helping build the town.
The community is richer for their contributions.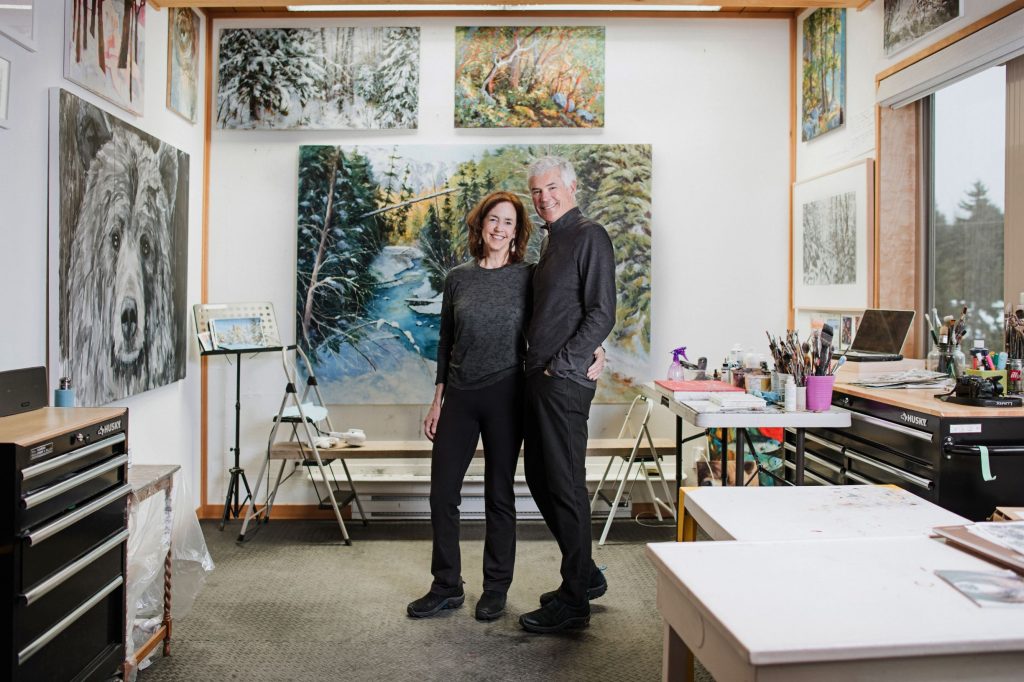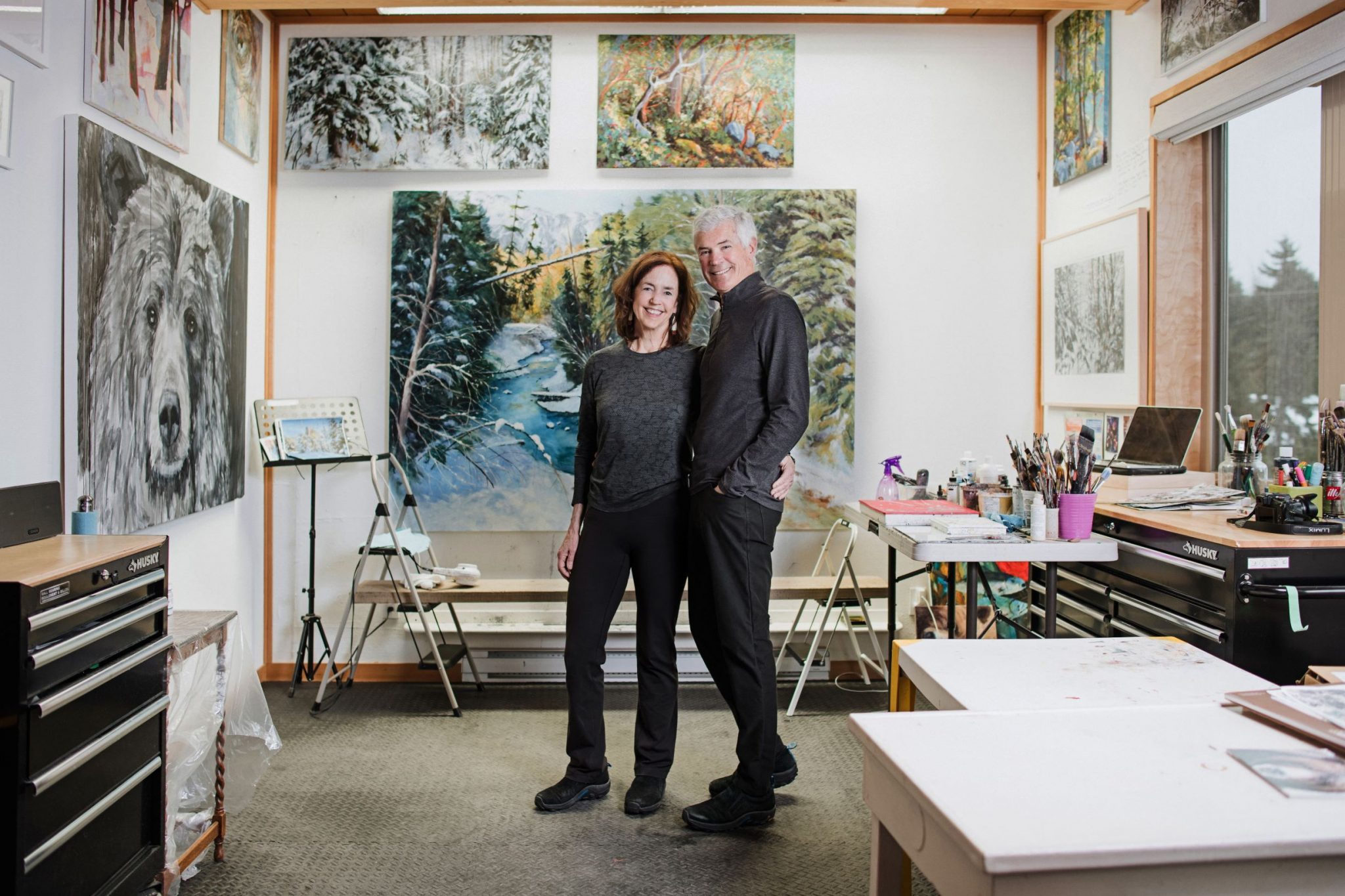 Doria & Jim in a studio with a collection of Doria's wildlife paintings.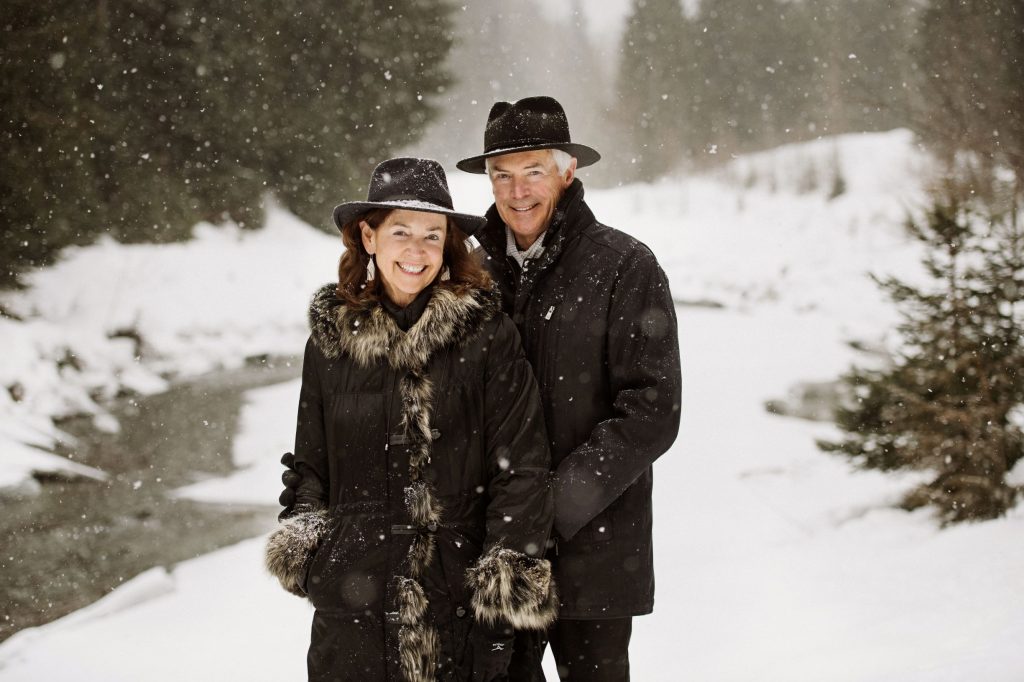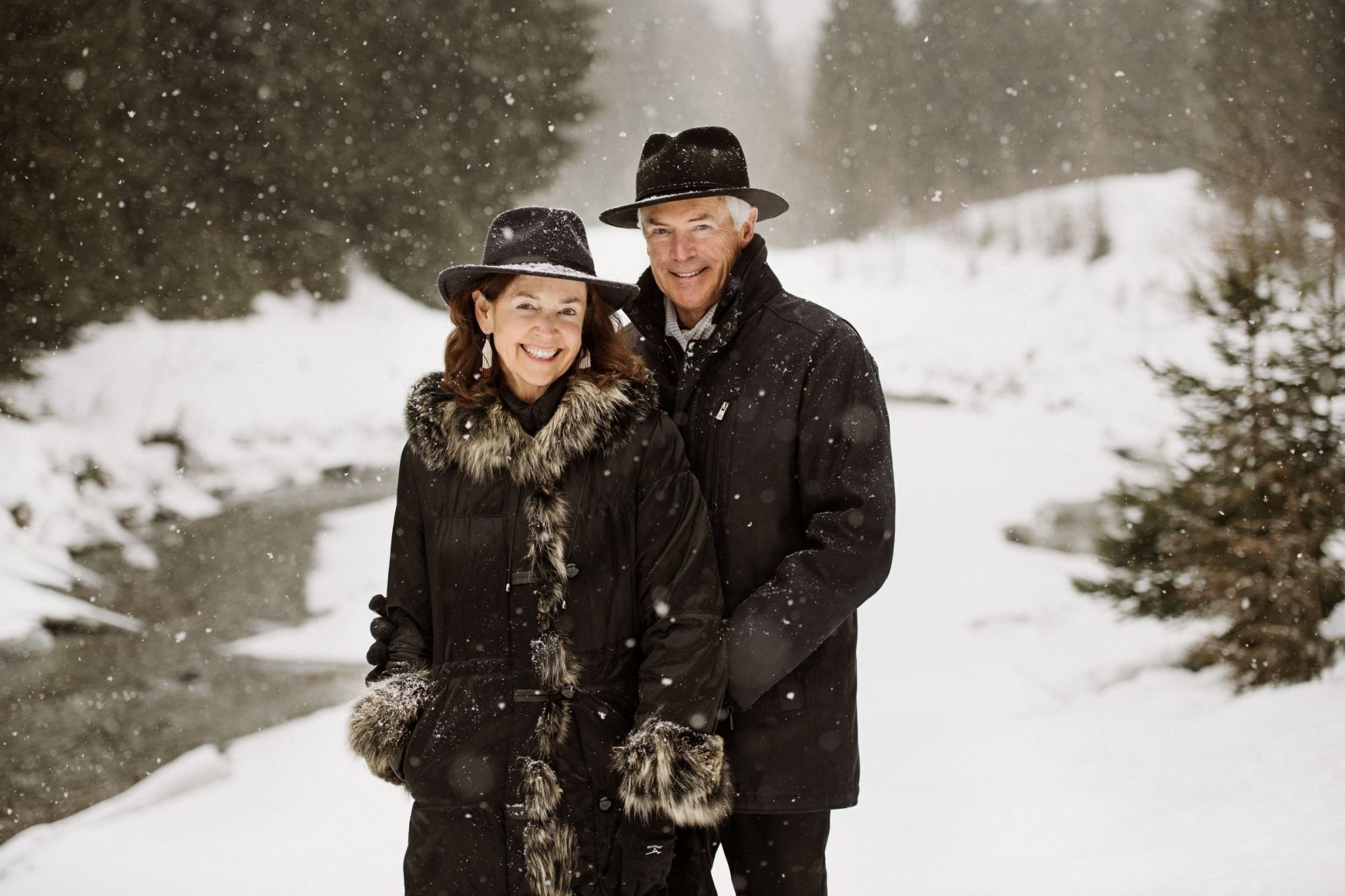 Doria & Jim during a snowfall standing together near the Fitsimmons River in Whistler, BC.