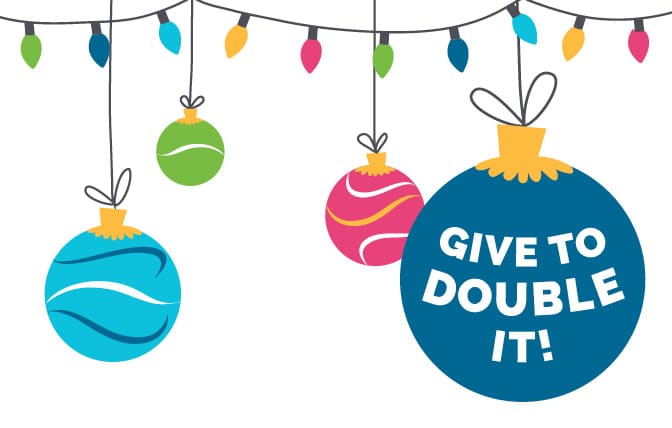 'Tis the Giving Season
Give to Double It
This year, we heard loud and clear that non-profits need funding – today!
And in 2023, the Community Fund will grant $8,000. Of WCF's 38+ funds, this fund has the most flexible granting model. So, we're hoping you'll help us double the granting! 
We'll use your donation* to make it $16,000 in granting from the Community Fund in 2023. 
Yes, we still endow donations – but this is an immediate call for action to support non-profits by doubling the Community Fund grants.
*Donations made to the Double It Fund before midnight on December 31, 2022 will be granted immediately without endowment to a maximum of $8,000. We invite you to donate beyond $8,000 to help build our Community Fund endowment.
More About Why You Should Give to Double It
Every year, the Caring Community Grants Committee receives more requests than the funds can support. In the spirit of flexibility, WCF's Board of Directors created the Community Fund which is an opportunity to apply funding to the greatest need without parameters.
The request for flexibility in funding has grown. Non-profits and charities have had to pivot in significant ways over the last few years, and the Community Fund has been able to fill gaps and provide for a wider scope of needs.
This year's giving season campaign invites you to Give to Double It! And the first $8000 that the community gives will be granted in 2023. Anything over and above will go to the endowed Community Fund because we definitely believe in the power of endowment.
The Power of Endowment Remains
The Environmental Legacy Fund (ELF) is a strong example of what endowment can do. The ELF is our largest fund; and it has granted out more than $1.6 million in proceeds to many non-profit organizations over the last 20 years. We think that's amazing. Yet, it didn't happen overnight, it took a significant push to build an endowment that now grants more than $100,000k per year. The foundation sees the potential in supporting the Community Fund which grants to charities who serve to support the health and safety of community members.
Make a Donation
Your gift will support long-term needs and opportunities, investing in solutions that strengthen our community now and in the future. You give to the causes and charities you care about, knowing that our expertise and community connections will ensure your gift has the most meaningful impact.
The Whistler Community Foundation appreciates gifts of all sizes and uses a carefully crafted investment policy to add your gift to a pool with other donors to maximize growth and minimize costs. You will make a lasting difference, working together with us to build a stronger, healthier and more vibrant community for everyone.
Online donations can be made through our online donation portal or select the "ways to give" tab above to find the best way for you. Claire Mozes, CEO is also available to discuss your options, please connect by emailing cmozes@whistlerfoundation.com.
Receipts are available on donations of $10 or more. Watch for your instant receipt from Whistler Community Foundation in your email folders (check your junkmail too).
Online donations are forwarded to Whistler Community Foundation after the merchant (Stripe) fees deduction is applied. If you wish to cover all the costs associated with donations, please indicate in the check box that you would like to increase your donation to cover the processing fees. This increased donation covers all credit card merchant fees, transaction fees, banking costs, receipting, reconciliation and disbursement. 
Tax Benefit
The Whistler Community Foundation is authorized by the Canada Revenue Agency to issue charitable receipts for income tax purposes for gifts of cash, cheques and securities, during the donor's lifetime or later by bequest in a will.
We recommend you speak to your lawyer or professional financial advisor regarding the ways to maximize your charitable tax benefit when you or your family give to Whistler Community Foundation.
Legal Charitable Name: Community Foundation of Whistler
Charitable Registration Number: 871748943 RR0001 BC
The Whistler Community Foundation is a proud member of Community Foundation of Canada 

Community Fund Grantee Story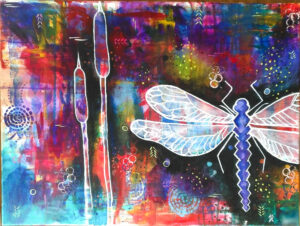 Description: a colourful mixed media painting with a dragonfly and plants.
Whistler Howe Sound Women's Centre made an application for financial support for a series of workshops that incorporate creative modalities such as intuitive arts, guided drawing, and painting.  
Creative practice participants were invited to direct the type of arts and to work with the mediums and themes that brought about feelings of belonging, improved mental and physical wellness, and supported safety.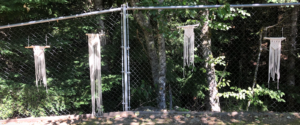 Description: four artworks made with wood and knotted rope or corded yarn hanging on a fence.
Art practice is not limited. It can even increase equity through movement, breathwork, meditation and more. Arts presenters are adeptly aware that individualized programming in small groups can facilitate self-care skills as well as recognize intersectional experiences and normalize differences in cultures, needs, desires, and capacities.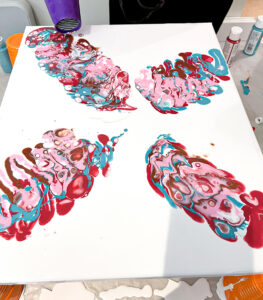 Description: an artist uses a hair dryer to push around and dry paints spilled on canvas in a colourful and pleasing way.
Prevention and crisis intervention is a dual lens that Howe Sound Women's Centre applies when assessing gaps in programming. As such, believes the Healing through the Arts program will support care and learning by offering alternative wellness outlets to people who have too often fallen through the cracks or met systemic barriers to seeking wellness outside of conventional practice of medicine.
Description: a bench with artwork in process with painting materials scattered about.
"Howe Sound Women's Centre envisions a day when all women and their children are valued and lead healthy lives – supported, connected to the community and violence-free."