A History of Community Builders
We believe it is both important and compelling to capture the stories of people who have contributed in significant ways to building this young, successful, thriving and unique town.
The Legacy Book of Whistler is a repository for Whistler stories. It is a central location to honour the people who have discovered, fell in love with, stayed to build this wonderful town of ours and, in some cases, left.
Read more to find out how these vital people contributed to the Whistler Community Foundation and share our sense of gratitude for the many people whose collective efforts have made this town what it is and laid the ground work for what it becomes.
Isobel's "Alpine Beauties"
Isobel's "Alpine Beauties" adorns the cover of the Legacy Book of Whistler. It captures the colour and spirit of the Whistler community, just as we hope the book will capture the colourful personalities and spirit of those who call Whistler home.
The Whistler Community Foundation thanks Isobel MacLauren for allowing us to use this piece to represent the Legacy Book of Whistler.
About the Artist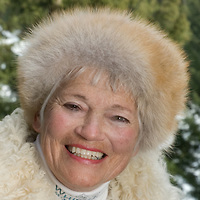 Drawing the scenery and wildlife near her home at Rothesay, New Brunswick, Canada, at the early age of eight, was the beginning of Isobel's artistic life. Formal training was completed in St. John N.B under the guiding talents of Miller Brittain, Jack Humphrey, and Fred Ross. Skilled in many dimensions, Isobel enjoys the challenges of calligraphy, graphic arts, fashion design, and all mediums of fine arts.
Isobel came to the forefront of Whistler's art community by capturing the natural beauty of the area, and her artistic talents have been commissioned throughout the valley; on the menus in the Chateau Whistler, as wall murals on many alpine chalets, and in information signage along the local trails and highways. The breathtaking view of Alpha Lake and Whistler Mountain from Isobel's alpine studio inspires the depth and beauty of her art.
Isobel's interpretive murals can be found on both Whistler and Blackcomb mountains, in the Cook Islands, and at the University of the South Pacific in Fifi. Isobel is an active member of the art world belonging to the Federation of Canadian Artists, the Otago Art Society of New Zealand, the Vancouver Arts Council and the Whistler Arts Council.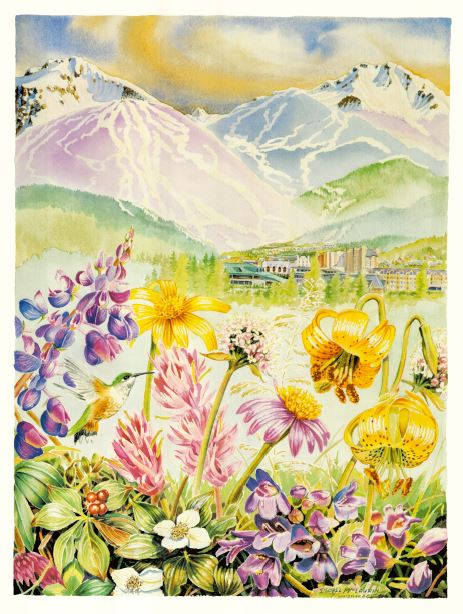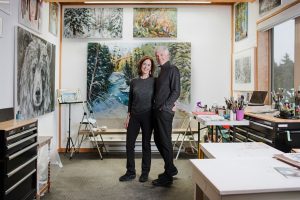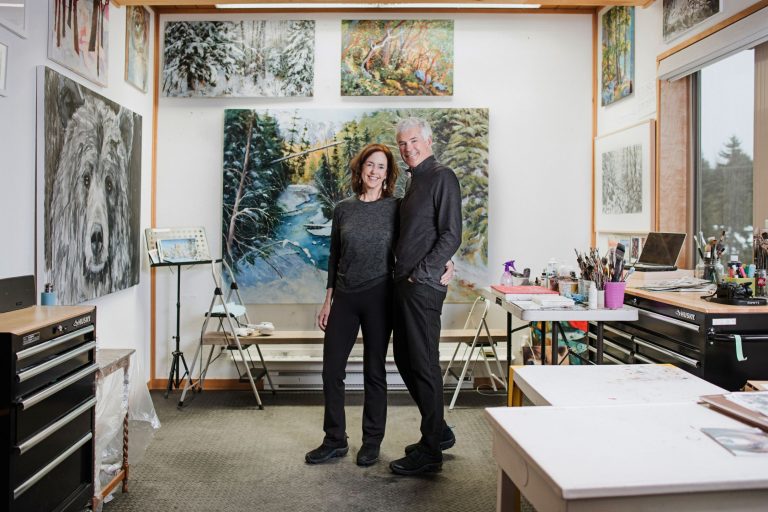 In the late 70s, when he was evicting squatters, Jim Moodie never imagined one of them would be the mayor he'd approach in 2012 with the proposal for Michael's museum. But Nancy Wilhelm-Morden loved the proposal and the 56,000 square foot, Patkua-designed building opened in March 2016, forever establishing Whistler as a player in art & culture.
Read More »