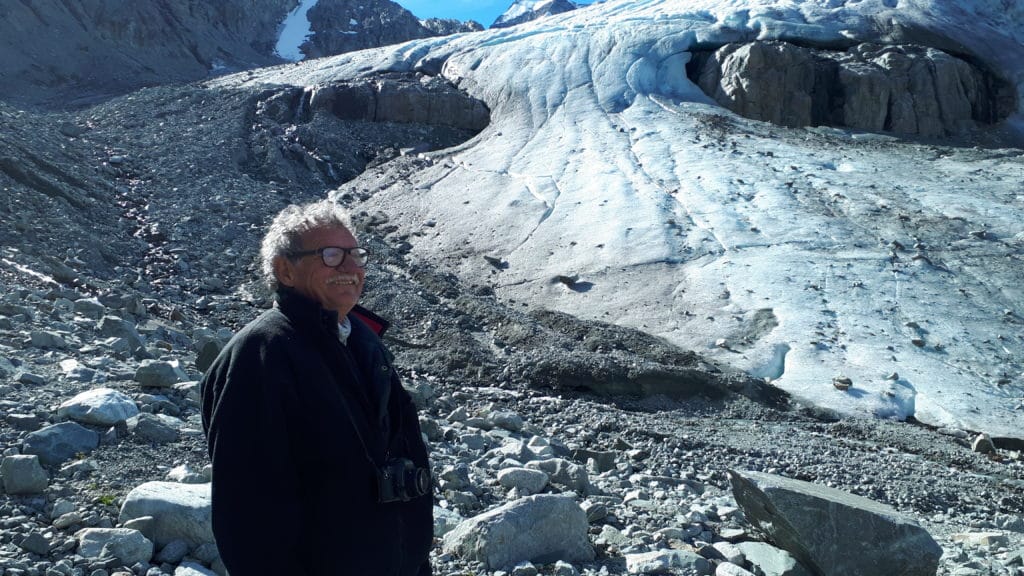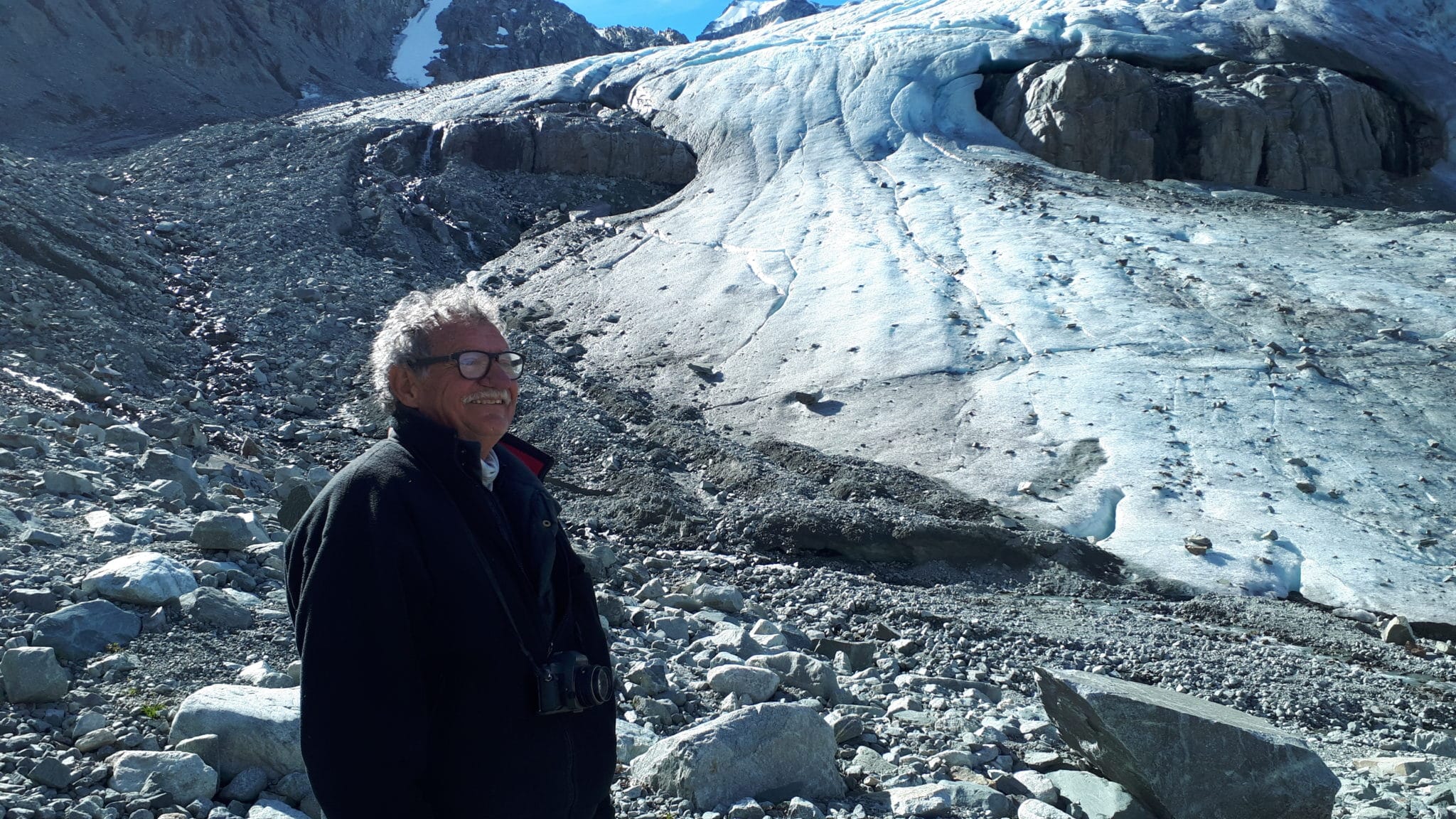 Image description: Karl Ricker standing at the base of a glacier during glacier monitoring.
Karl Ricker came to Whistler while it was still Alta Lake. The 28-year-old took the train north from Vancouver to do something no one else had done before.
Inspired by a film highlighting the 1954 unsuccessful attempt by members of the University of British Columbia's Varsity Outdoor Club (V0C) to traverse the 40 kilometre horseshoe-shaped route around Fitzsimmons Valley — the Spearhead Traverse — Karl and three other VOC members spent nine days traveling through difficult, largely unnamed terrain, 'guided' by an incomplete 1928 map. Theirs was the first successful traverse… ever!
Born in North Bay, Karl earned a BSc in Zoology and a MSc in Geology at UBC. He felt an immediate attraction to Whistler, saying, "I needed mountains at my doorstep." Beginning in 1965, he found them every weekend here and set out on a lifelong journey of volunteerism that helped build and define what Whistler became.
It started when the VOC found a site in what is now Nordic to build their club 'cabin'. Karl and an army of volunteers began work on the cabin in 1965 and hard work it was, since there was nothing other than a logging road to the site. The road proved useless when wet and much of the material had to be carried by hand for the final half kilometre.
Retired from a career that included a year in Antarctica, "The fastest year of my life," Karl moved permanently to Whistler in 2001. Friends, opportunities, the outdoors and ambience of living in a small community, the "vertical relief at my door," all conspired to keep him here. "I knew I wanted to be here until I pine-box it or when I'm physically incapable of living here," he says.
Already an active Weasel Worker, new avenues opened up to tap into his interests and energy. An active birder, he became an early volunteer working the Christmas Bird Count. A few years into it, he became the organizer. "When the original instigator moved to Germany, he tossed me the files." He ran it for 20 years, eventually finding someone else to toss the files to. He still documents the bird life in and around Whistler throughout the year, amassing invaluable data.
While Karl says his philosophy runs along the lines of, "If it ain't broke, don't fix it." his actions suggest it would more accurately be, "If it ain't being done, do it." It would be easier to list those important, community-building activities he hasn't been involved in than the ones he's played a part in… often a leading part.
Aside from the VOC cabin — later named the UBC Lodge — and Weasel workers, Karl's been involved with the Whistler Naturalists Society, the Whistler section of the Alpine club of Canada, the Blackcomb Ski Club and the Whistler Mountain Ski Club.
Along with others, he's played a key role in naming (officially) the Spearhead Range, the Fitzsimmons Range, the McBride Range. With the VOC, he organized getting the Singing Pass trail built. He worked to have part of the Fitzsimmons Creek delta set aside as a wildlife reserve, protecting nesting shore birds from dogs and humans.
Since 1973, he organized the annual effort to monitor the health — and retreat — of Wedgemont and Overlord glaciers. Midway into his 80s, he's joined the survey group by helicopter the past few years and says he's, "left that effort in good hands," hands he's largely trained and inspired.
Far from a self-promoter, he calls himself a small needle in a big haystack. Those who have had the pleasure of working with him on his many projects have a decidedly different point of view. Asked about his accomplishments, he's more likely to deflect the attention to his daughter, Maëlle's success as a national team and Olympic team snowboarder and coach. Or the roles played by Al Raine, Don McLaurin, Jack Souther and others in building Whistler. Or caregiving a close friend, "and outstanding outdoors lady, Marilyn Cram," through years of battling Alzheimer's.
But in any endeavour, there is and always will be only one first. Karl's imprimatur on the Spearhead Traverse will always be part of history. He did it again on the 50th anniversary. With Bert Port, who was a member of that first party in 1974, his daughter and assorted friends and acquaintances, Karl skied the traverse again… at age 78. It took fewer days this time — and there are many who ski it in a day now — but as Karl says, "They need to take their time and really savour the place rather than trying to make a race track out of it."
With family stretched from coast to coast, Karl knows one thing for certain. "Whistler's where I want to be… always has been."
Karl Ricker has not only been a part of Whistler's story, but a part of the foundation's story too. Karl was the lead on the Whistler Naturalists' Glacier Monitoring program that has received $13,058 from the Environmental Legacy Fund ($8058 through the Whistler Museum and $5000 through Whistler Naturalists). The glacier monitoring program has been integral to tracking the recession of Whistler's main glaciers.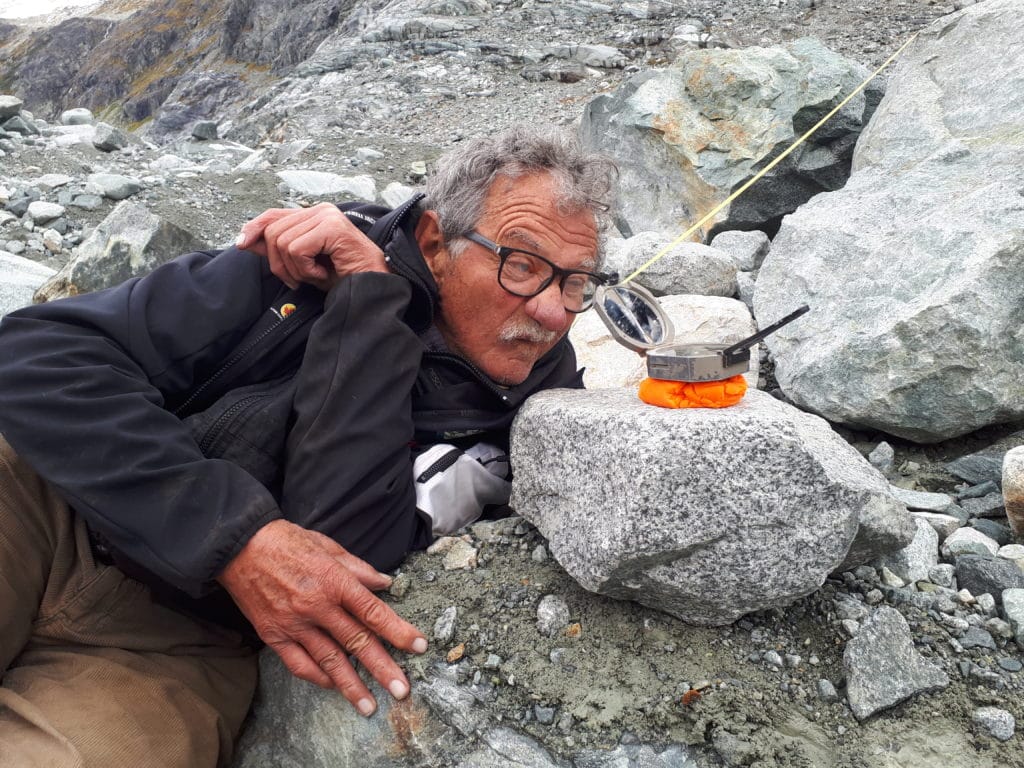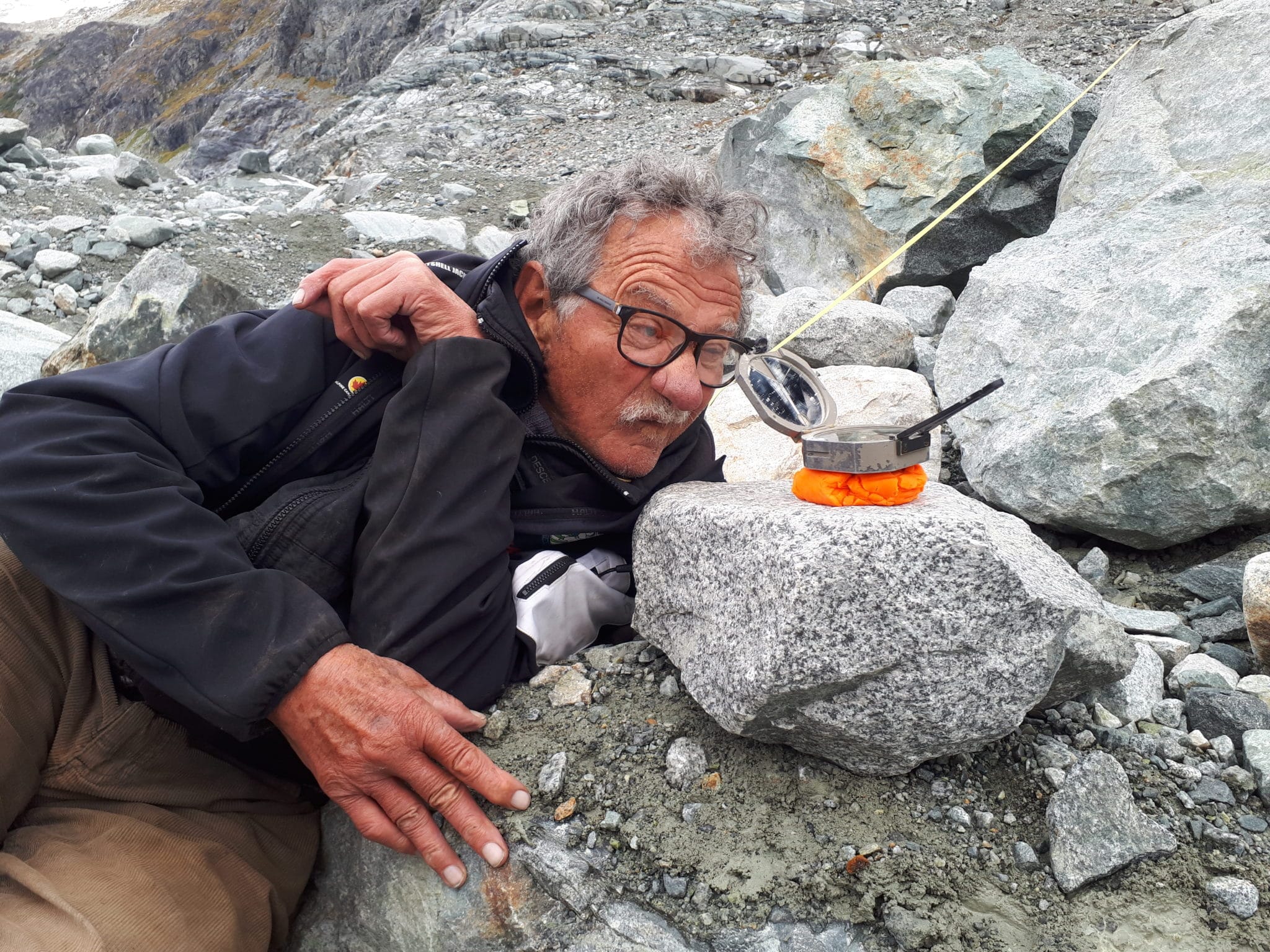 Image description: Karl Ricker taking measurements during glacier monitoring.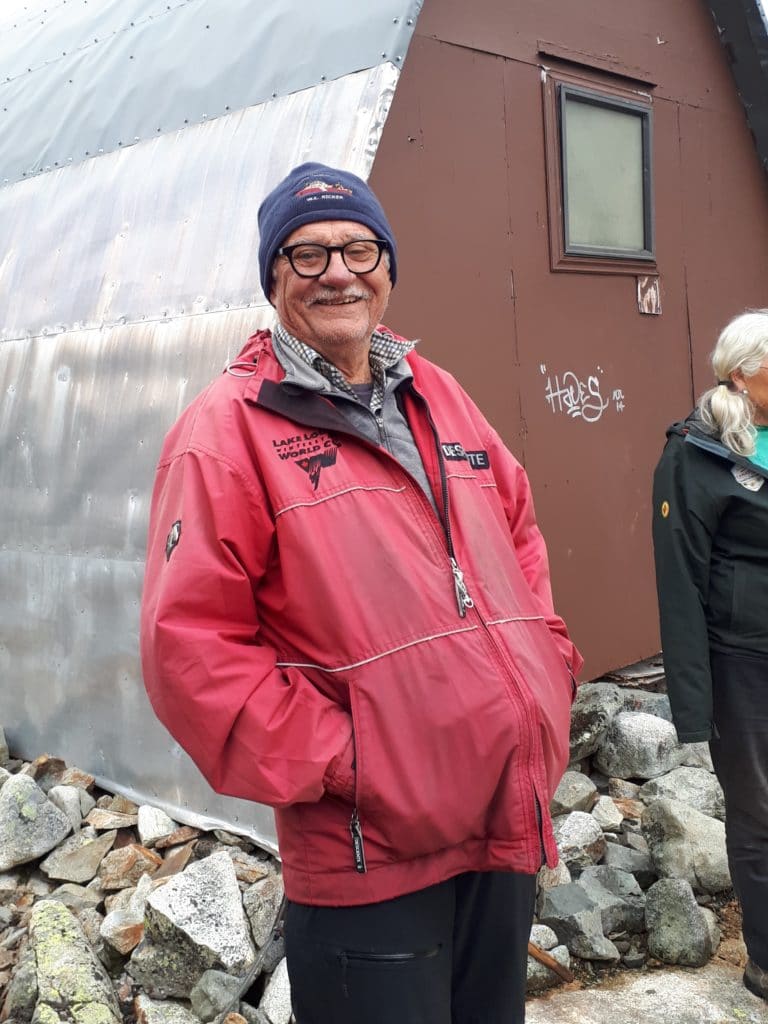 Image description: Karl Ricker, with a big smile, hanging out at an alpine hut.