Bob and Sue Adams are one of those couples — like Burns and Allen or Wayne and Shuster — so inexorably linked it's impossible to think of or name one without the other. So linked, in fact, it often sounds like Bobansue Adams when they're mentioned. And they're mentioned a lot.
Before they met, in 1967, they were separate people cobbling separate lives, Sue as an occupational therapist, Bob in social work. After they met, they were weekend fixtures in Whistler. Bob, who'd skied here since the first year the mountain opened, introduced Sue, an Australian, to its glories. Winter weekends were joined by summer weekends and the two began to conspire on ways to leave the city behind and make a home here.
Their opening came when the opportunity arose to purchase the Grocery Store in Whistler Village in 1988. Having never worked in the grocery business before, they naturally jumped at the chance. Sue, who'd left therapy behind to pursue her passion for food, had managed a series of restaurants in the Lower Mainland and been immersed in catering. Bob, well, Bob had Sue and that was enough for him. What could possibly go wrong?
The rest is history — Whistler and Pemberton history. The Adams turned the little Grocery Store into a big success, opened the Upper Village Market some years later, built and started the Pemberton Valley Supermarket after that, established Delish Café and Catering, and became fixtures on nearly every board and volunteer community organization in both towns.
Along the way, they mentored a generation of bright employees, helped a number to strike out on their own, sold the Upper Village Market to their very able manager and became the kind of business owners smart, ambitious people wanted to work for.
It's impossible to list all the awards they've won, community organizations they've generously donated their time, skills and more tangible forms of support to, and careers they've launched and nurtured. A short list for Sue alone would include the boards of the Maurice Young Millennium Place, Vancouver Playhouse International Wine Festival, The Playhouse Theatre and North Shore Credit Union as well as serving on the Premier's Small Business Round Table, the Whistler Summer Theatre Project, the Steering Committee for arts and culture in Whistler and others. She's been honoured with the Business in Vancouver Influential Women in Business Award, Whistler Business and Arts Award, Business Person of the Year — along with Bob, told you they were linked — and Whistler Citizen of the Year.
Bob, on the other hand, has been president and director of the Whistler Chamber of Commerce, chair and director of Community Futures, co-chair of the Leadership Sea to Sky program, Business Person of the Year, director and life member of the Canadian Federation of Independent Grocers and a fixture at almost every public meeting ever held to discuss the future of some aspect of Whistler.
Both continue to be strong supporters and advocates for small business, arts and culture and life long learning.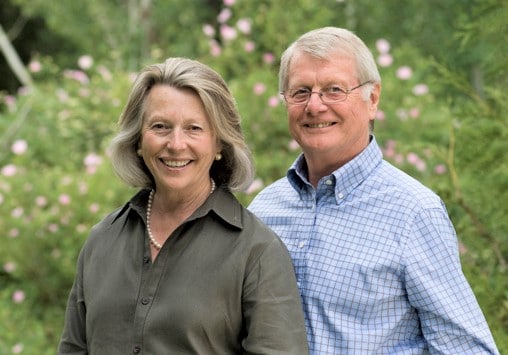 You too may support Bob and Sue's legacy by making a gift to their fund.
Or by referring friends to the Bob and Sue Adams Leadership Grants of up to $500/year for an individual who works or volunteers for a charitable organization for the betterment of our community. Preference will be given to applicants who are pursing education opportunities in the field of community development, social work, psychology, or business.