WCSS Outreach Workers replace technology with help from ECSF Grant presented by WCF
A mandated shut down to protect BC's physical wellness, meant moving the core components of Whistler Community Services Society's Outreach Services online to protect Whistler's mental wellness.
A pre-pandemic day for the Outreach Workers at the Whistler Community Services Society (WCSS) included two staff delivering one-on-one appointments 6 days a week for 8 hours a day. The goal of the program is to help clients assess their needs and direct them to appropriate services and programs — or in some cases refer clients on to a professional. Low-barrier services range from assistance with government applications to rental conflicts to parenting support groups and beyond.
At the announcement of a global pandemic in March 2020, WCSS took the lead from the federal government and local health authority and came to the painstaking realization that they would have to shut the doors and go home.
With many of WCSS clients already meeting difficult social challenges, getting the Food Bank, Outreach Services and Clinical Counselling Assistance back up and running within hours was critical. And the thought that this was going to impact many others who had never accessed their services before was equally daunting.
While the food bank had external assistance and immediate fundraising activities, outreach presented a greater challenge. Right away, Outreach Workers opened their phone lines, and yet the capacity for even the pre-pandemic volume of about 350 connections per month was significantly hindered by the lack of consistent and effective technology. While this was happening, many community members were now facing unforeseen monetary, housing and mental health concerns, and the need for outreach was growing exponentially.
At first, few members of the WCSS team had a laptop. Instead, it was a complex puzzling together of incompatible software and outdated hardware. Lori Pyne, then Interim Executive Director and now Operations Manager, remains amazed and thankful for her team's capacity to work within very unusual parameters.
In May, Whistler Community Foundation, a partner with the Government of Canada and Community Foundations of Canada in delivering the Emergency Community Support Fund, granted $9000 to WCSS in support of the purchase of mobile technology.
Likely due to a global slowing of product distribution, the laptop delivery was slow. By the time the computers arrived the team had made significant headway with the program. In fact, the parenting groups had moved completely online and WCSS had added the latest pandemic program Quaranteenager.
The new, efficient and networked laptops were a gamechanger in Lori's mind. The Outreach Workers found that face-to-face connection, unhindered by the blips of technology, allowed them to focus on their groups and clients in a more connected way.
While the group numbers were not significant, the gratitude expressed by the group members was "huge".
Baby and Beyond class just before we went into lockdown: We had one class in person, and it was such a welcoming environment. As soon as I entered the room, the outreach worker asked if she could hold my baby as I got settled in. He fell asleep in her arms and she facilitated the whole class while he napped on her. She kept checking in with me, making sure I was happy with this, and I was!
The outreach worker was warm, honest, knowledgeable, passionate and down to earth. She was a wonderful facilitator during the switch to online format for the remainder of our classes. She remained warm, and calm in the midst of a crisis. She also remained honest. This was important and seemed to allow all of us to be so honest. It was a scary time and It was something I looked forward to, this connection with other Moms.
Thank you for these classes! Birth, Baby and Beyond is a lifesaver. They have meant the world to me as I navigate motherhood, and a pandemic.
~ Baby & Beyond Participant
Today, all financial assistance programs, food bank, and outreach services are offered in a hybrid approach of virtual or in person. WCSS will continue to supply services remotely because getting programs online reduced client barriers in unexpected ways.
The level of service at the WCSS is almost back to pre-pandemic levels, but there's no doubt things look a lot different. For example, keeping staff, clients and social enterprise customers safe is of highest priority and takes momentous time and effort; and the school lunch program, which was previously focused on healthy homemade-style foods (like sandwiches and chopped vegetables), is now serving prepacked foods. Just two of their 21 programs are on hold.
The laptops are now serving in greater capacity than ever dreamed.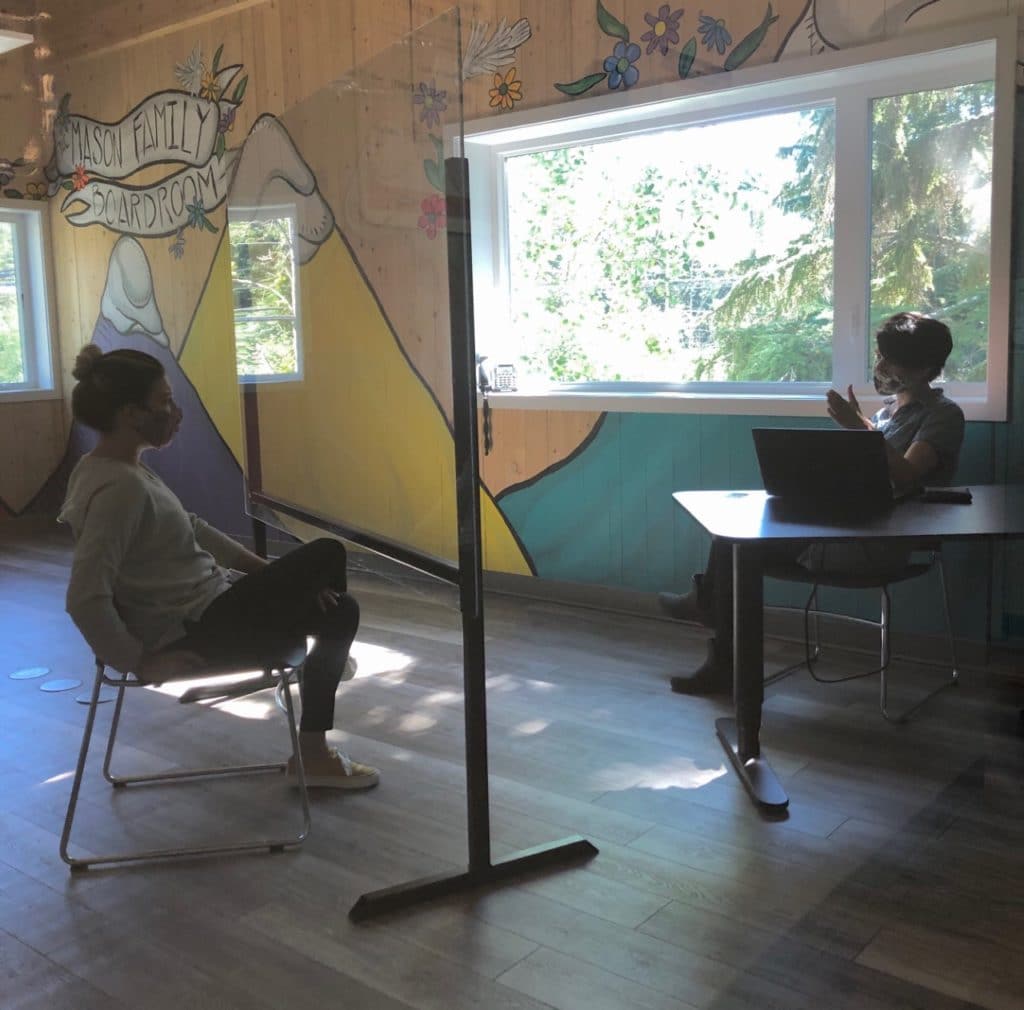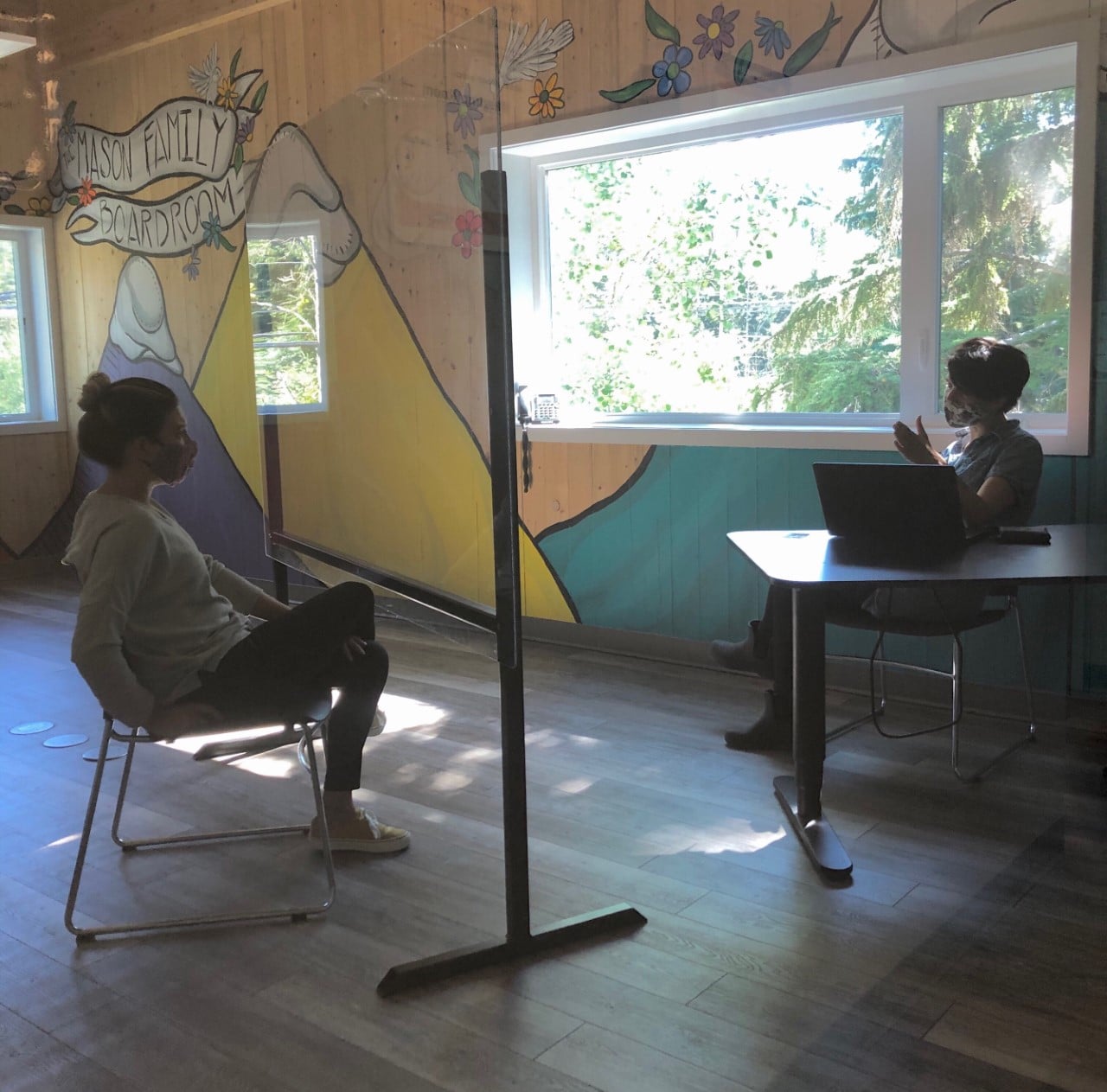 To ensure vital work in the community can continue, please consider making a monthly donation to the Community Fund.
The Community Fund supports emerging community needs in Whistler and Pemberton areas through granting to charities that serve to support the health and safety of community members.
Emergency Community Support Fund (ECSF)